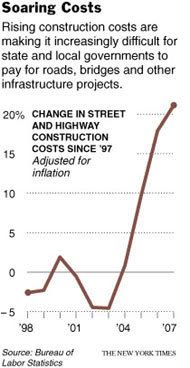 The New York Times finally catches up with what North Carolina local governments have been saying for the past few years namely that Building Costs Deal Blow to Local Budgets


State and local governments in many parts of the country are struggling to pay for roads, bridges and other building projects because of rising construction costs, adding another burden to budgets already stressed by the troubled housing market.

The problems have come as many governments pursue ambitious projects to improve roads and airports, build schools and upgrade long-neglected water and sewer systems. Many of the projects were conceived when money from property, sales and income taxes was steady and interest rates low, but officials say the ground has shifted beneath their feet.
As we said here back in November,
Construction Inflation has long been rising
faster than the Consumer Price Index, the general measure of inflation.