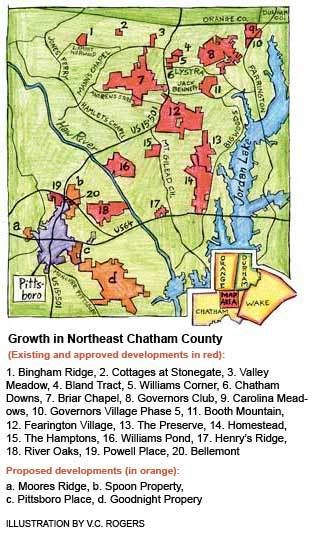 Chatham County has been a political laboratory for developers and realtors in recent years, as documented by Jennifer Strom in The Independent:

It started in 2002
How Bunkey Won: A Chatham County group tapped into Triangle-wide developers' coalition
Fast forward to 2006:
High noon in Chatham: County on edge as the primary election nears
These are legitimate groups:
The Chatham Coalition
Chatham Citizens for Effective Communities
Pittsboro Together
This is the official Chatham County information site:
Chatham Land Transfer Tax Referendum

The name "Chatham County Coalition for Homeownership" is deliberately chosen to sow confusion with the legit "Chatham Coalition". All counties should expect robo-calls and a last minute surge of disinformation, much of it sourced from Civitas and John Locke Foundation.

Rob Schofield had a good review of the disinformation being circulated about this complex issue:
One Size Does Not Fit All
Yesterday Chris Fitzsimon had an article summarizing the realtors involvement:
The Realtors' misleading rhetoric continues

Having just flown over Chatham County this week it was dismaying to observe the pock-marked landscape with large swaths of cleared red dirt each relieved only by a handful of specks representing the first buildings of subdivisions and all within sight of the dried shores of Lake Jordan.