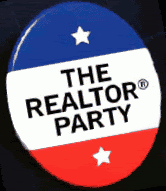 In a little noticed action in 2007 the National Association of Realtors was fined $78,000 by the Federal Election Commission for violations of election law including $282,500 spent on mailings and advertisements expressly advocating the election of Richard Burr for Senate in 2004. The FEC found that the National Association of Realtors 527 Fund failed to register and file disclosure reports as a Federal political committee and accepted contributions in violation of Federal limits and source prohibitions. In total the NAR 527 Fund spent $2.8 million advocating the election of 9 federal candidates in 2004 including Richard Burr, their favorite son Johnny Isakson, a Georgia realtor, and the disgraced Rick Renzi.

The campaigning for Richard Burr spurred the complaint and subsequent enforcement action. One North Carolina man, Thomas Strini, of Mint Hill, had filed two separate complaints, one in September 2004 attaching a copy of one Burr mailing and another in November attaching copies of five Burr mailings from the National Association of Realtors (NAR), some with the specific authorization of the North Carolina Association of Realtors (NCAR). The enforcement process dragged on for almost three years until June 2007.

Richard Burr's 2004 campaign for Senate received much support from the National Association of Realtors and the North Carolina Association of Realtors. It was quite overt and drew some media attention at the time but little, if any, follow-up. Since 2004 the realtor association leaders have crowed about their support for Burr and his support for legislation favoring realtors such as a bill to prevent banks from getting into the real estate brokerage business. Burr's wife is a Winston-Salem realtor. In addition to the NAR 527 Fund spending of $2.8 million, the NAR Political Action Committee, known as RPAC, spent $3.75 million on 2004 federal campaigns and the NAR also boasts to members of bundled individual contributions direct to campaigns. RPAC is consistently a top spender in federal and state campaigns. Anecdotally, NAR and NCAR provided about $1,000,000 in combined support of Richard Burr's 2004 campaign. RPAC alone spent $578,748.02 in independent expenditures on the Burr campaign.