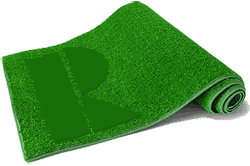 Raleigh residents have been bemused and confused by the proliferation of enigmatic signs for a new group called RenewRaleigh.org complete with a depiction of plastic grass.

The story was picked up by New Raleigh: ReNew Raleigh: Manufactured Consent, Over The Top/ Inside The Beltline: Raleigh Needs Renewing?, the Raleigh News & Observer: Renew Raleigh and, Progressive Pulse: Renew This.

In recent weeks the signs have proliferated on rental properties around Raleigh. The only names associated with the group are two Raleigh attorneys, one who speaks for the group and one who filed incorporation papers.

renewraleigh.org and the realtor's itsabadidea.org have essentially the same internet identity. They share an IP address, nameservers and mail servers and data collection for both is managed by Joel Sutherland of NewMedia Campaigns which owns the IP block.

The true purpose is to undermine the Raleigh city council majority in favor of unfettered development. The valid points that might be made about infill development don't require secrecy. The astroturf and subterfuge is carefully calculated to confuse, providing cover for realtors, builders and developers.

A few months back I overheard an organizing discussion about the group at a Raleigh restaurant and how they could enlist the help of one of the realtors' political consultants. Looks like they went straight to the source.